01
FREE Player Membership
Whatever your standard of Football, whether you're a boy or girl, get involved now with the best football website available to enhance your career in the game.
Join for FREE and start your football news feed. Tell us about yourself and keep us updated regularly on your football life. Share your talent with Footballers Global and let us help you get your photos, videos and football journey out there.
Share all your video links, grow your fan club and get your posts liked and shared for more exposure to scouts, as we aim to help unearth some of the best unseen football talent.
Get your friends and team mates involved to help and support each other to make the most of your ability.
From now on in, make sure you catch your best moments on video and use it to enter our FREE competitions and win great prizes.
You always hear about great players slipping through the net so together lets have FUN and start finding them.
02
FREE Parent Membership
As a football parent you may come across many highs and lows, so we are going to provide you with some advice and tips to guide you and your child(ren) through their journey.
A member of our team is Steve Sallis, he is the best in the business. Steve is the founder of Solutions Mindset and author of the book Educating Football. Steve works with many professionals in the game including some Premier League players and the England under 15s squad. We are delighted to be able to share his professional advice with you.
Unlike most other sites we take on line safety very seriously. We encourage you to get yourself registered for FREE and support your child's Football journey no matter their standard. Join the fun and their fan club to show support for grassroots football. Share on your profile feed some of the problems a grassroots football parent faces, and as a community let's work together on them and have your say. As well as hearing your  problems we would also like to hear the positives, so share them too.
Some of you will have already experienced the dark side of the game by your child(ren) being released by a professional club and finding themselves on the scrap heap at 16 years old and not knowing what to do. We are hoping to connect you with like minded parents that can share how they helped their child(ren) get through this time. We have created a safety net to help get them back in front of scouts. https://footballersglobal.com/safetynet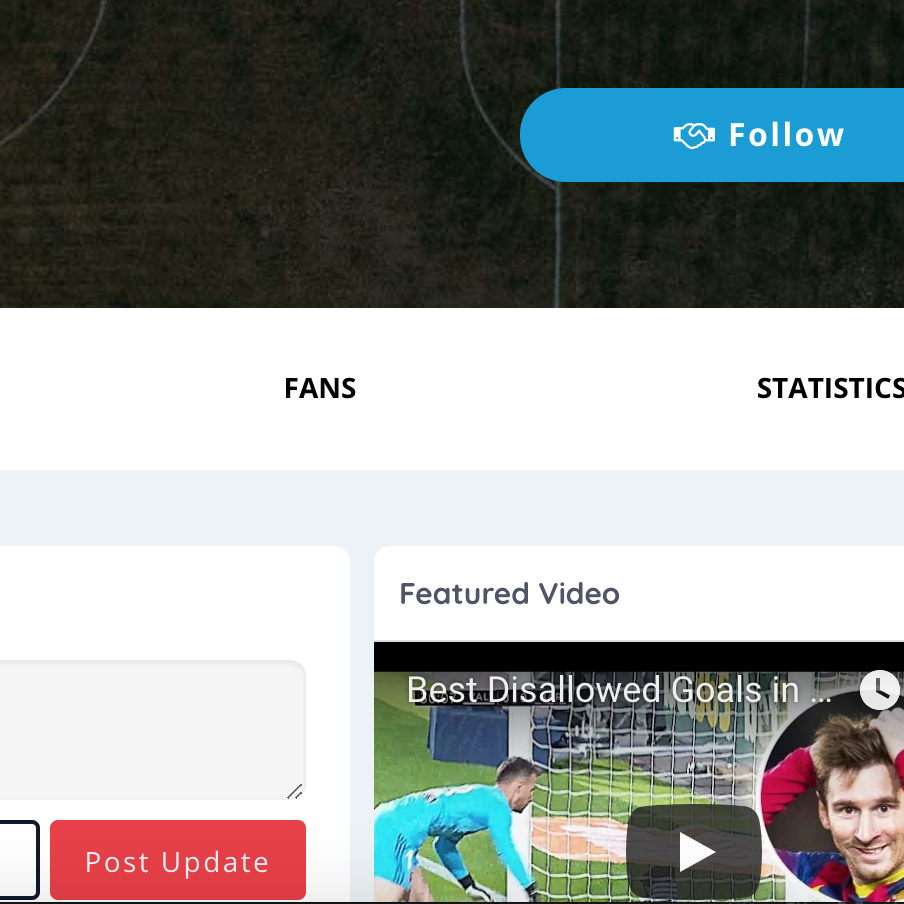 03
FREE Fan Membership
This is for everyone and anyone that loves the game of football or just wants to show support to the grassroots level. Some of you may live on the other side of the World to your relatives so register for FREE and show them international support. Like and share their posts and help spread the word about their talent.
If you are a football fan get involved with discussions and share videos of your favourite teams and players. Connect with your friends with a simple follow and build up your own followers within the community.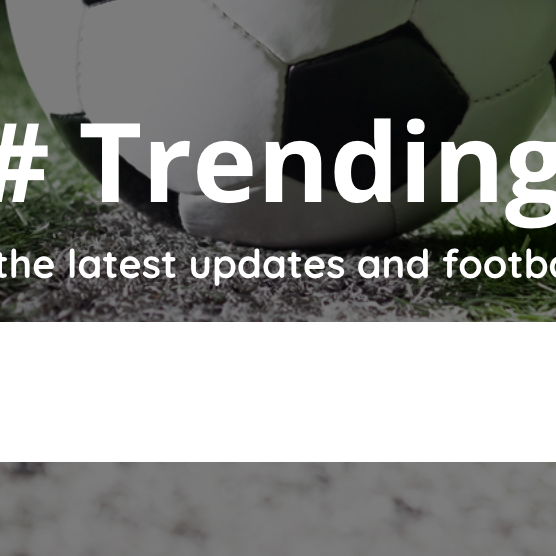 01
Find your next football star!
At Footballers Global, we know that scouts struggle to filter the volume of player information that they receive. We categorise our player stats so that our search feature will enable you to specify the attributes that you are looking for. With our brand new filtering system, it's now easier than ever to find your perfect player, using their location, age, position, strengths and even their best foot! You can look at a player's profile, watch videos and follow players to monitor their development. Our platform allows you to contact players so that you can gain more information ensuring you only travel to watch a player that you are interested in.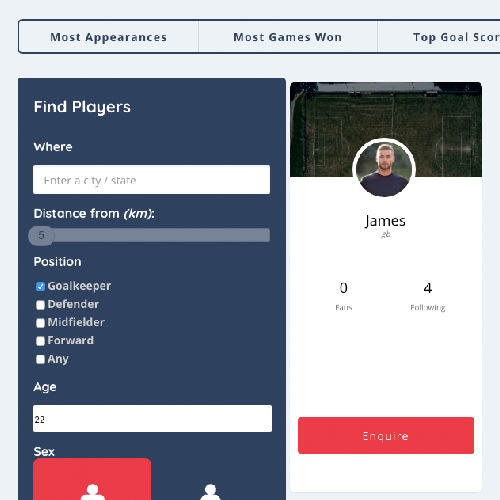 02
Why you should get involved
We are aware that most Social Media sites are full of people claiming to be Scouts/Agents and are scamming players. This is why we ask any Scouts to join us for FREE and also understand why we ask you to e mail any proof ID that confirms that you are a valid Scout/Agent, and your DBS registration Number if you have one.
We offer the facilities to advertise to a whole host of players from around the world, you can spread the message about trials, showcases and much more. By being proactive and sharing your vision you will help encourage young players to raise their game and impress you on the pitch, In return this will help us to help you find the perfect player .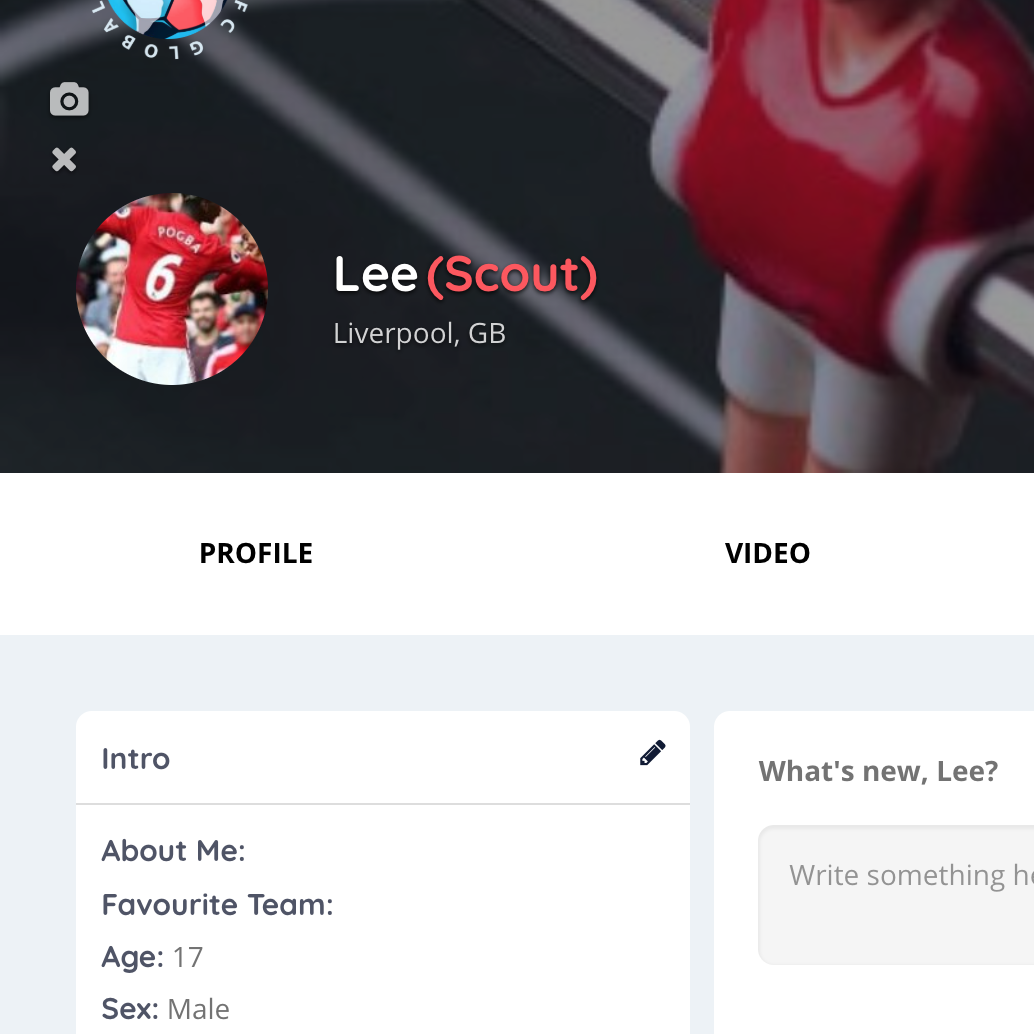 03
Working with us
Our aim is to work closely with scouts, managers and agents to create a platform that gives young players the opportunity to be seen, with this in mind we encourage you to keep in contact with us to gain insights to new players. Build a relationship with Footballers Global and together we can help players reach their full potential!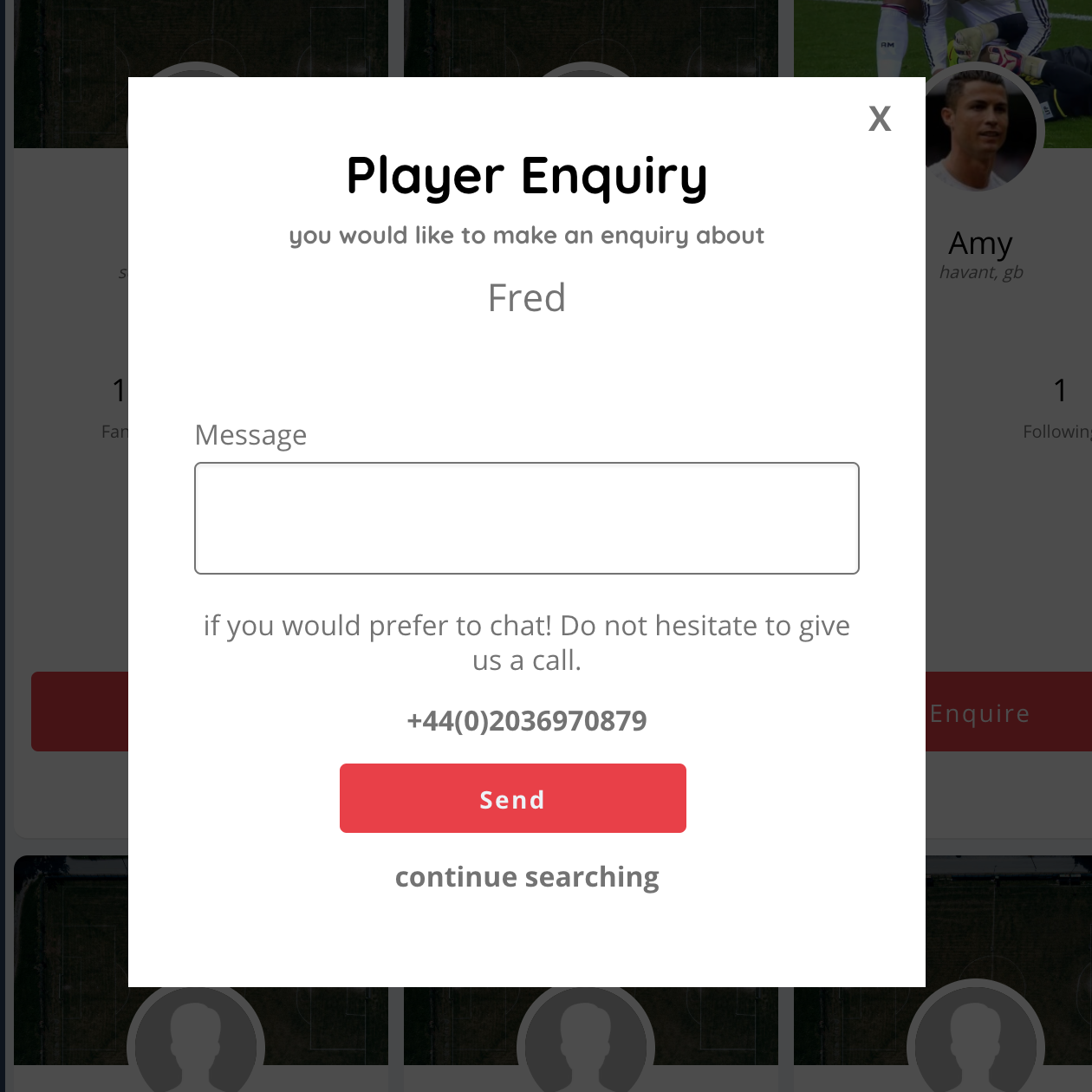 01
Build your own Profile
This Membership is for the Players taking their Football more seriously and would like some extra help to get in front of Scouts.
We know that it's difficult for players to get noticed by scouts and so we have created a platform to make it easier. Create your digital football CV, build your stats over the years and manage your own career. You can publish videos and photos of yourself, follow your friends and showcase your talents and skills in the right way.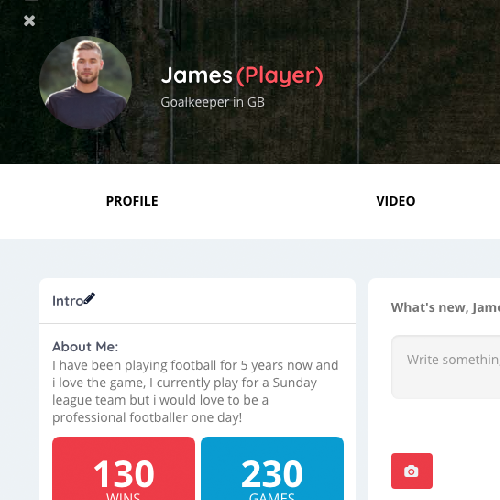 02
Get noticed
Premium is the only level of Membership that our vast network allows managers, scouts, and agents to search for players just like you. By using our platform you can create a professional footballers CV to showcase your talents, skills and abilities for our world wide search engine . No matter what position you play in, how old you are, or what side of the world you live, there is a Scout waiting for you to land on their page.
If you use any other social media to try and advertise your football you may have noticed that there are hundreds of fraudsters acting as scouts. Before any scouts can enquire anymore information about you we will have already received a copy of their scouting qualification. This level of membership is cheaper than a single cup of coffee, you can get this membership from £2 per month to help spread your talent to wide-world scouts and agents.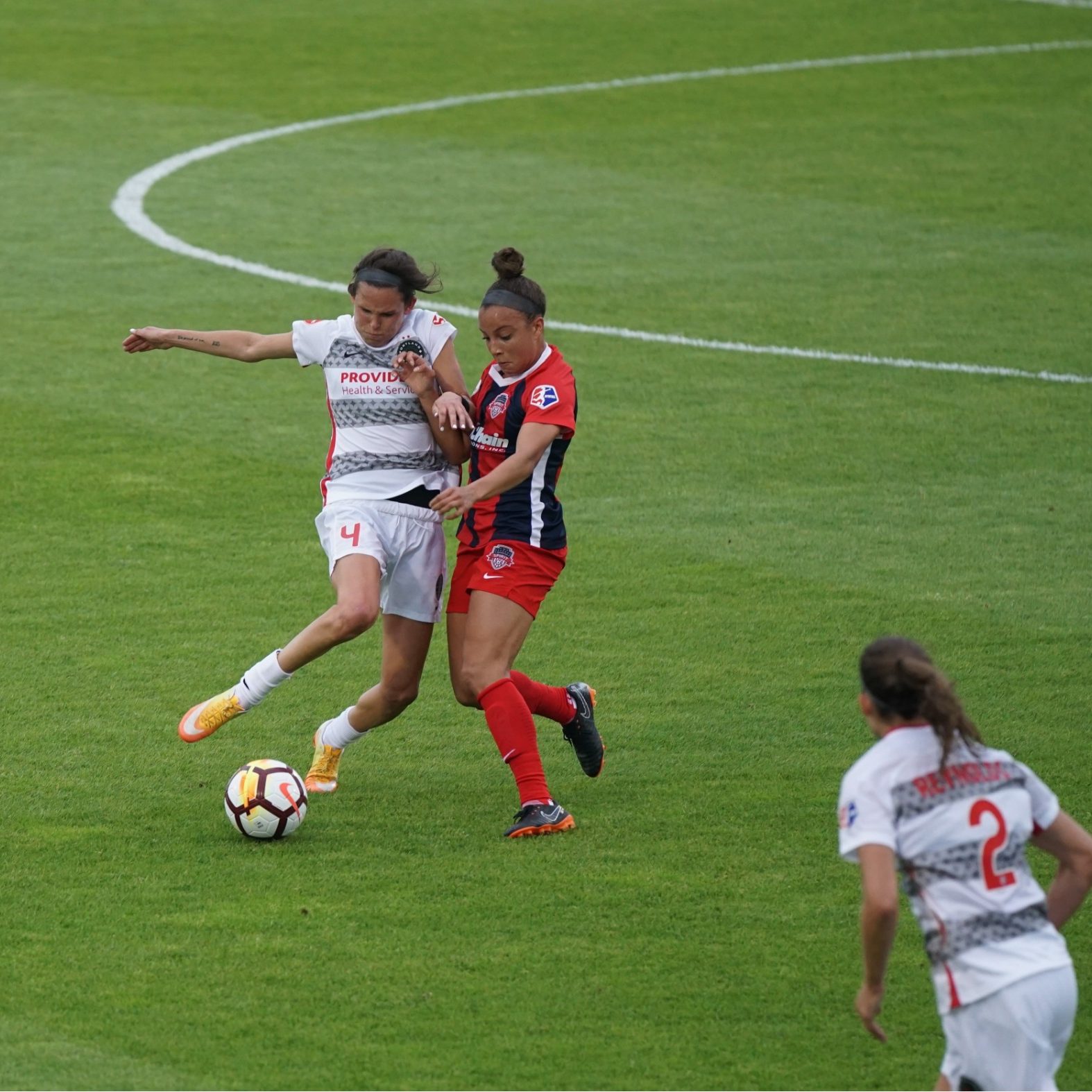 03
Compete For Prizes
Contribute in challenges that we post, and your participation will not go un-noticed. There are lots of prizes up for grabs for you and your team to help kick start your footballing career.
Along with being able to enter all the competitions with the other level of Members you will have some extra Competitions and prizes to win for your team or even the chance to win a place in showcase games in front of Scouts. We can never promise to get you a professional contract (no one can do that) as the real work is down to you but we will be helping with professional tips and advice along the way.