Jimmy Carter
Ex-Professional Footballer & Pundit
CHAMPIONSHIP WINNER
1987/88


LEAGUE CUP WINNER
1992/93

EUROPEAN CUP WINNER
1992/93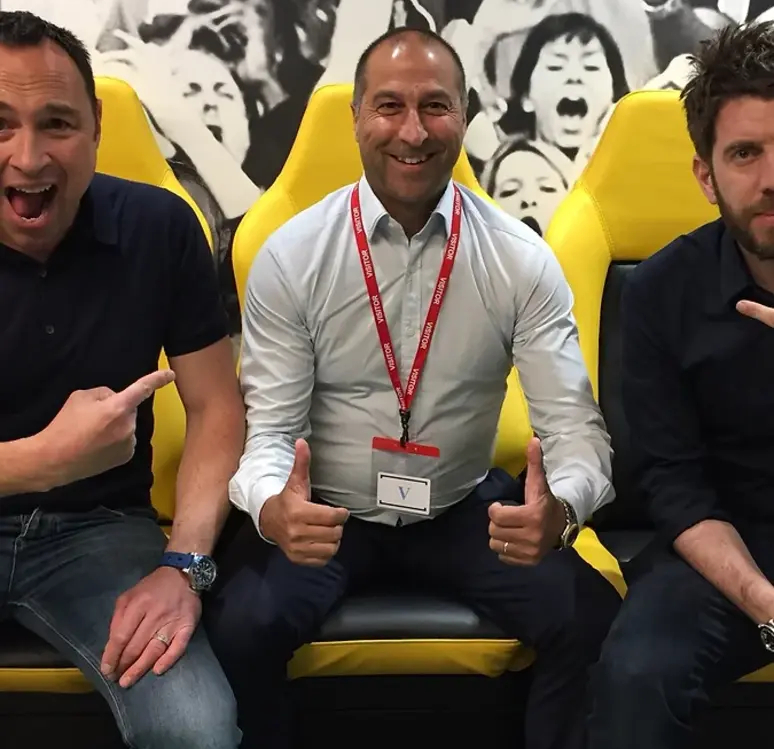 Jimmy Carter is a former professional footballer who has represented teams including Liverpool, Arsenal, and Millwall.
After retiring as a player, Jimmy continued his involvement in the game by working with Millwall FC. Additionally, he has gained a presence in the media world, regularly receiving invitations to be a guest speaker and co-commentator on various radio stations, including TalkSport.
Reflecting on Jimmy's playing days, he experienced both highs and lows, demonstrating an amazing attitude and mindset. Despite having his professional contract terminated at 19 years old, he dusted himself off and persevered.
Jimmy's journey took him to the pinnacle of football when he signed for Champions Liverpool FC under the management of Sir Kenny Dalglish. He then made his way to London, joining Arsenal FC under manager George Graham.
As a winger, Jimmy Carter was a vital member of Arsenal's squad that achieved success in both the FA Cup and Coca-Cola Cup in the 1992/93 season.
Beginning his career at Crystal Palace, he later moved to QPR before making a significant impact at Millwall, helping them secure the 1987/88 Second Division title after a transfer fee of £15,000 in March 1987.
Subsequently, he joined Liverpool for £800,000 in January 1991, but nine months later, George Graham signed him for Arsenal for £500,000.
During his time with the Gunners, he scored twice in 25 League games before being loaned to Oxford United. Later, in July 1995, he joined Portsmouth, and in July 1998, he returned to Millwall. Unfortunately, a back injury brought an end to his career.
From Release to Redemption
I'm Jimmy Carter, a former professional football player, and I'm so excited to share my story with you! You know what? I was just like you when I was younger – dreaming of becoming a pro footballer one day. And guess what? I got lucky and had the privilege of playing for awesome clubs like Liverpool and Arsenal!
But, let me tell you, it wasn't all smooth sailing. When I was just 18 and a half years old, I faced a tough challenge – I got released from Crystal Palace. Can you imagine how devastated I felt? But you know what? I never gave up! I kept going and going, and I wrote to 92 clubs asking for a chance. I only got 2 replies and both of them was a no. Finally, Queen's Park Rangers gave me a shot, and I grabbed it with both hands!
You see, I want you to know that setbacks happen to everyone. Even legends like Les Ferdinand, Ian Wright, and Jamie Vardy faced tough times. But they never stopped believing in themselves, and neither should you! Your dreams are worth fighting for!
Now, I'm an ambassador for Footballers Global, it's an amazing platform that helps players just like you. Whether you've been released or want to show off your skills to scouts, Footballers Global has got your back!
So, remember this – never stop believing in yourself, and use any disappointment as fuel to reach for the stars! Football is all about second chances, and with hard work and determination, you can make your dreams come true!
You've got this, keep shining on the field, and who knows? One day, you might run out in that iconic Liverpool or Arsenal shirt, just like I did!
Keep chasing your dreams, and remember – football is all about having fun and never giving up!
Go out there, show 'em what you've got, and let's make those dreams come true together! Keep kicking, keep dreaming, and let Footballers Global help you reach hundreds of scouts around the globe.
Best of luck, and remember, I'm cheering for you all the way! You've got this!